Handheld Remote Control
Control, monitor, and gather feedback from a remote location using the Versilis Commander
Control, monitor and gather feedback from a safe onsite location using the Versilis Smart Handheld Remote Control
Available Products
Key Features
Developed and tested for roadway applications
Delivered on pre-assembled rackmount assembly
Highly configurable for all standard operating procedures
Use for regular roadway operation or maintenance
Range: 1 mile (line of sight)
Highly configurable for all standard operating procedures
Documentation
Product Description
The Versilis Commander is a low-cost turnkey PLC interface module, specifically developed and thoroughly tested for automated lane closure applications. It is the single piece of equipment you need to control and monitor ITS field devices according to your own standard operating procedures.
The Versilis Smart Handheld Remote Control is a powerful and versatile tool for automated lane closure applications. Designed with similar functions as the Commander, it allows onsite ITS field device control and monitoring according to your own standard operating procedures.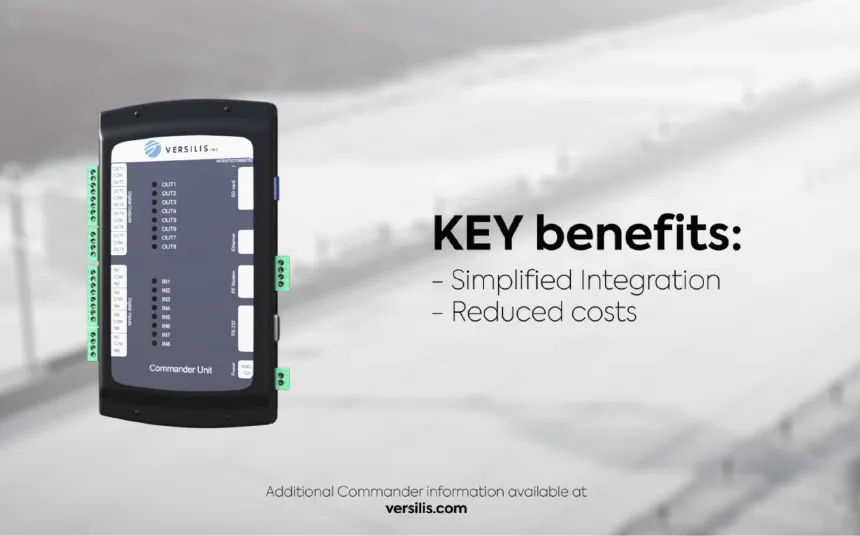 Meet the Commander
Clients choose the Commander Solution over complex custom-built PLC to simplify integration and reduce implementation costs. Learn more with this quick overview video.
Versilis gates were installed at the Chesapeake Bay Bridge in Maryland to assist with closures and two-way operations. After conducting extensive testing I can confirm that the Commander Solution used for control and monitoring is powerful and robust. The products, as well as the technical support from Versilis have been superior.
Barry A. Grasso
Senior ITS Engineer and President
Integrated Control Systems
ITS Integration Test Lab
TMC Software developers enjoy the flexibility provided by the Versilis ITS Integration Test Lab environment to speed up central software development and testing without having to procure multiple hardware components.
Increased development efficiency
Reduced system integration risk
Reduced implementation costs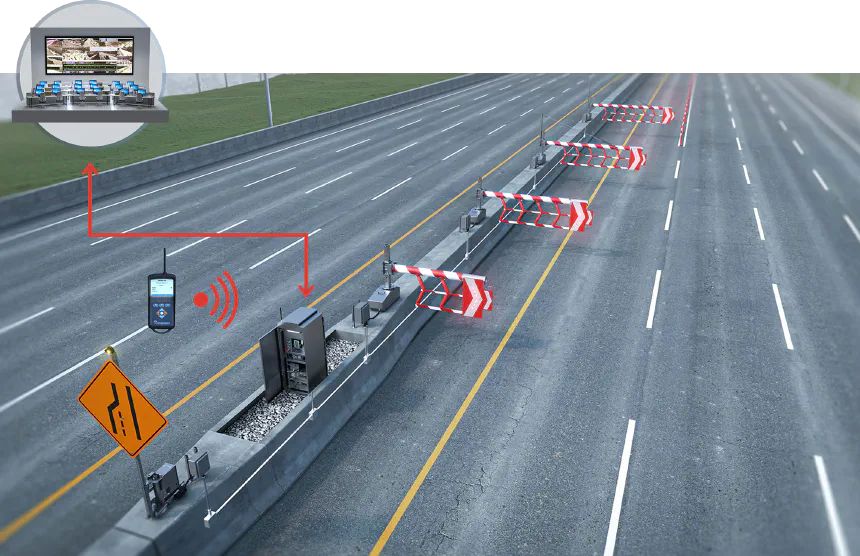 Complete System
An automated lane closure system typically includes automated warning signage, gates, and an integrated control solution. Versilis offers all system components for ease of integration and reduced implementation costs.
With you on your project
Standard Services

Transportation agencies, designers, and contractors can count on Versilis' exceptional support at all project stages. We are proud to be a partner contributing to your project's success.

Additional Services

Designers, contractors, and system integrators can benefit from Versilis' communication integration expertise and services to deliver value and reduce risk.
Step 1

Concept

Guidance & Knowledge Sharing

Suggested gate layout
Street view mockup
Safety guidelines
Budgetary pricing

Step 2

Design

Designer Technical Support

Standard mechanical drawings
Standard wiring block diagrams
Project specific drawings

Step 3

Build

Time to deliver

Project coordination
Project Submittal Package
Project specific manuals
Product manufacturing
Detailed ITS communication integration design
ITS Integration Test Lab for client software developers & tech support

Step 4

Delivery

Time to make it work

Material delivery
Installation support
Proof of performance test
Integration test support
On-site training
System integration test
SOP testing and training using ITS Integration Test Lab
Available as additional services